First and foremost, our apologies for my absence from this blog. It is totally unacceptable! Things have been busy, but time will certainly be made for this here webspot moving forward.
As some of you know, We at TSS have been involved with video game cover music for quite a while now. We love all of these bands for different reasons, be it the music or the feel or the people involved. A lot of bands can come and go, but theres a few bands that stick with you over whether they break up or whether they go on hiatus and come back with even stronger material. One of those seminal VGM bands to us is certainly Michigan's Year 200x. Fairly early on in our own travels, we met Tim Lydon, mainman and super sweetheart of the band. After many years and the bands incredible album 'We Are Error', Year 200x has released 'World Of Ruin', a 6 song offering that showcases a lot of that flair that drew us to Year 200x so long ago. An interesting conversation about VGM and all things considered follows.
TSS: 'World Of Ruin' has a ton of character and finesse involved for a relatively short release. There are some killer tones and the playing and arrangement is top notch, as expected. It definitely makes the wait since we are error worth it. Do you feel that maybe less is more in terms of offerings for bands these days with interest shifting to sites such as Bandcamp, iTunes, and Spotify?
Y200X: I've definitely noticed a shift towards shorter releases, and even releasing single songs at a time. Sometimes bands will just one-off songs and then when they have an album's worth, they'll bundle the songs together into an album. That's definitely not something that was possible when I started making music, and I think it's pretty neat. It provides an opportunity to release music without needing the budget of recording and releasing a whole album at a time. The budget required could discourage people from releasing great music, so it's nice to have a way around it.
As far as that applies to World of Ruin, we definitely went the shorter EP route for budgetary reasons, but also because due to our busy schedules, we just didn't have the time to write a full album's worth of material. I really believe that if we had stuck our guns to try to release a full LP then we would have ended up releasing nothing at all. All of the tunes on the EP are ones that we had at least played a few times live, so the arrangement was there; it was just a matter of adding the extra layers (extra instrumentation, vocals, fadeouts, etc) that can be done in a studio but not necessarily in a live setting. I also think that focusing on a smaller set of songs really helped us to spend more time on each song, allowing us to realize our vision for the songs more fully than we might have otherwise.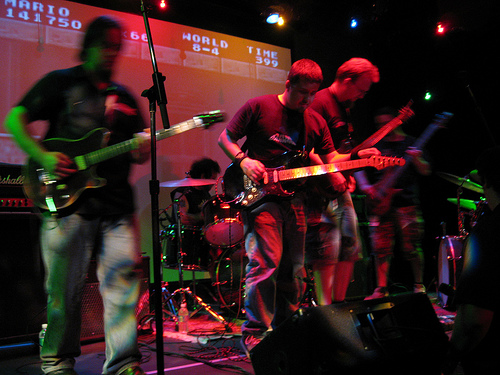 TSS: Year 200x sticks out to me as being one of the most honest and solid vgm bands out there both live and on recording. Can you tell the readers a little bit about what keeps your inspiration and desire to progress with both production and playing going as the years go by?

Y200X: Man, it's hard. Like...really hard. As tends to happen, our lives have changed a lot since we started playing together in 2006; kids have been born, marriages have occurred, members have moved out-of-state, things like that. Just look at how long it took for us to produce the new EP...we recorded the drums back in 2011. Almost three years to record six tracks.

Despite all of this, we still have this music inside of us, along with a love of the original music and appreciation for those people who enjoy our particular flavor of video game covers. From these things we draw our inspiration. We feel we owe it to our listeners and ourselves to progress in terms of playing skill, arrangements, and production, to show that we still care and that regardless of all of the things going on in our personal lives, we're going to give as much of ourselves as we can in order to make music that makes people feel good.

TSS: If you had to pick one Year 200x song as your favorite both in playing live and recording that you guys have done over the years, which one would it be, and why?

Y200x: I'd have to say Dancing Mad from Final Fantasy VI. It's a tune that we never thought we'd be able to flesh out, for many reasons including its length, its complexity, and how different each movement sounds. However with lots of work and brainstorming, I think we were able to come up with a pretty good version. Good enough that when we play it live, it doesn't feel like an 11-minute song, it just kind of flies by.
TSS: I would have to agree, personally it beats out Silius and Zelda 2 as my fav. And when you can get a song that encompasses that much feeling together, and still feels shorter than longer and flesh it out how you want, well that is a huge victory.

What advice would you like to give younger bands getting into vgm or even fans who are struggling to find others who are into it to get a scene going? Any things you regret doing, or anything you may have done differently?
Y200X: Try to do your own thing stylistically, and try not to be influenced by what songs have been covered by other artists. Do what feels right to you. Do you really want to do a cover of the moon level from Ducktales or Wiley stage 1 from Mega Man 2? Do it. Have fun. I'd rather listen to a well-arranged version of a tune I've heard a million times than a crazy obscure song that doesn't hold my interest because there's no nostalgic connection involved. Find other people that have the same love of video games and music as you, and just enjoy making music.
There are a few small things that I might change about our performances and recordings (so many wireless guitar cable issues, I kind of can't stand the snare sound on We are Error) but no big regrets. It's been super fun and the friendships I've made far, far outshine any negatives.
TSS: One last question: as you get older, do you feel like your impact as a musician who plays and performs video game music has left an impact, and do you think that its an artform that has room to grow? Where do you see gaming and the fandom surrounding it when we are in our 50's?
Y200X: I do think that there's plenty of room for video game music and vg covers to grow. It's a perfect way to take two things that many people are passionate about--video games and music--and express them at the same exact time. There's not many things I can think of that can accomplish the same result. For that reason alone I think it's an artform that will last.
As more time goes by, there will be more and more talented people creating video game music, and other talented people interpreting that music and molding it into something of their own in order to pay tribute to it. I really can't imagine this changing, and I can't wait to see what brilliance the future holds.
Special thanks to Tim for answering our questions! See you again next time, it wont be in 6 months, promise!